How to measure yourself for a Mastectomy Bra ***Side Note: Bilateral customers please refer to point (2b)
It's best to be wearing a bra already, and get someone else to do the measuring. Stand up with your spine straight, but allow yourself to be relaxed. Elevate your arms to the side at 45 degrees to allow a tape measure to pass underneath them.
1) Underband Size: Ensuring that the tape is parallel to the ground, measure under your bust by placing a tape measure around your ribcage, directly under your bust. Pull the tape quite firmly, and note down the measurement.

2a) Bust Size: On the side that did not have the mastectomy performed (bilateral customers please see further below), run the start of the tape measure from the centre of your sternum / breastbone, across your nipple, to the centre of your spine, and in line with the base of the bra band. Here we are measuring the fullest part of your breast in relation to your girth. Note down this measurement, and then multiply it by 2. For example: 48cm x 2 = 96cm.

2b) BILATERAL customers need only measure for their Underband Size. The cup can be chosen to your desired profile. If unsure, we recommend the following cup sizes based on feedback from our customers:
Underbands 32-34 ...try cup sizes B-C
Underbands 36-38 ...try cup sizes C-D
Underbands 40-44 ...try cup sizes D+
3) Putting the Measurements Together: Refer to the left-hand side of table below for your underband Size. For example: 79cm lines up with 36". Once you have this, travel across the grid in a straight line to where your bust size measurement stops. Travel upwards to find your recommended cup size.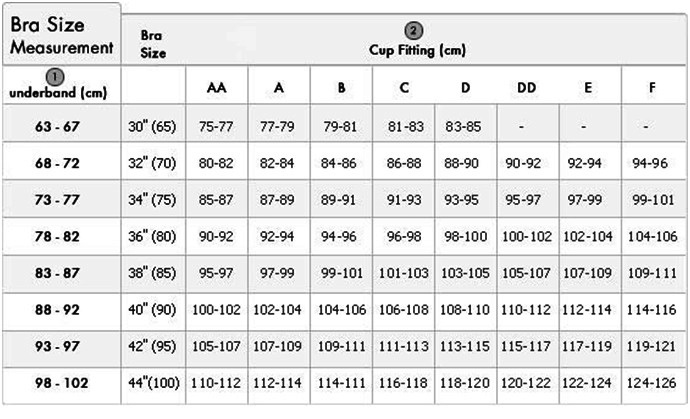 Example:
Underbust 79cm = 36" …Overbust 96cm = B Cup
Refer to the following Bra Band Conversion Chart for AU sizing e.g. Size 36" = Size 14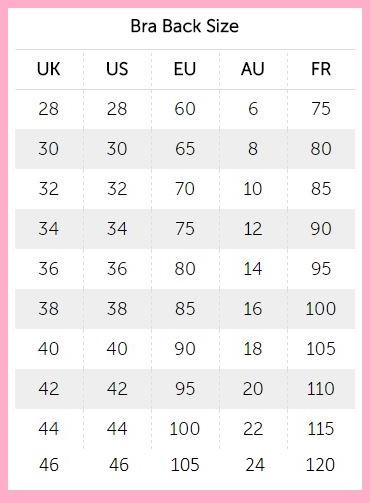 Once you have your purchase in hand, try each bra on before removing the store tags. If you think you may need a different size, refer to the following tips for how to proceed with choosing the correct size. Remember that it's quite possible for you to be different sizes in different bras, so assess each bra individually before returning them for an exchange of size.